Calender
Categories
Archives
Recent Entries
Recent Comment
LIFE
LONG TIME NO UPDATE
I am in Indonesia for holidays now. this time is a little bit longer since i'm going to attend my sister's wedding next month!
anyway, the point of this post is to conclude this year. what had happen. lol. all the things that happened this year feels like stuffs that could happen for 10 years long.
first, the highlight of this year for me is..
FIGURE SKATING
the Winter Olympics happened and I got drag inside the fandom. really really deep.
this 10 months has been both great and hell at the same time. wanna know why? just read the news, even until the very last day of the year, it still gives us heart attack news and all. but i'm glad. Just, i'm afraid to hear Mao's decision next year. not ready at all.
Well, personally my life has changed quite a lot. from having the most expensive hobby ever, leaving the entertainment fandom(i'm completely done with it, zero interest), changing department, moving back to tokyo(next year well..), farewell to good friends, got hooked to exercises, injured my knee twice, fell on ice hard, etc
Sports has majorly involve in my life this year and I don't want to let it go anymore I think. while I gain muscle and flexibility, my diet isn't going anywhere so probably i will put my diet as my resolution next year.
I still remember what I said last year and come to think, I said in 2014 i will travel a lot more than 2013 which is tru, and as resolution i wanted to raise my flexibility which is also i did just not yet to the extreme level.
2015, I'll need to manage the list but i 'll probably do it after i go back to japan.
no computer here so hard to post a long text post.
For a meantime.
farewell.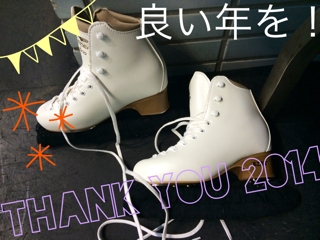 この記事のトラックバックURL
Trackback
PR
Profile
Recommend
フラグーカウンター
Links
Others
Mobile